Did you know our average rebill is 4-6 months per customer.
On average that's $400-500 PER customer you refer.. paid out over 6 months..
On top of that, we have many "golden" customers that stay with us for YEARS!

Why? Because our product ROCKS. Our conversion rate rocks and our backend product OVERDELIVERS.
Stop selling meaningless 1 sale eBooks and low
converting products that just turn into refunds. Instead,
promote a rockstar product that follows through on all its
promises and makes you HUGE profits.
Wouldn't you rather make this
PER MONTH?
Our team is dedicated.. we are here to help
you. We provide top support to our customers
and affiliates.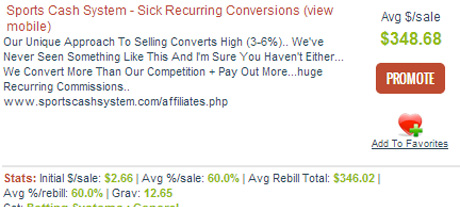 * #2 Ranked Betting Product - Over 13 Gravity Score and Over $348 AVERAGE Sale!


The Sports Cash System product is the #1 sports betting product out. The conversion rate is HUGE and the refund/cancellation rate is low. We offer a
$4.95 trial for the first 5 days
, then it converts 90% of the time into a
$149 membership + upsells
we offer. Members stay for many months because our system gives them a pick every single day no matter what sport is in season.
We work very hard to keep our members subscribing year round. Our system of betting sports and our expert plays of the day are one of a kind... This is not another eBook or complicated system that turns into refunds. This is a unique system combined with expert daily picks that keep our customers wanting more. We have tons of happy affiliates!!
Enter your Clickbank ID to get the link for our alternative landing page:

Don't have a Clickbank account yet?
Sign up to become an affiliate of Clickbank
here
* Alternative New Landing Page
Sports Cash System Affiliate URL :
* Change XXX with your Clickbank ID
* Try this new direct sales video landing page to bring in huge sales.
Many affiliates are using this new page exclusively to make huge sales. Start promoting now!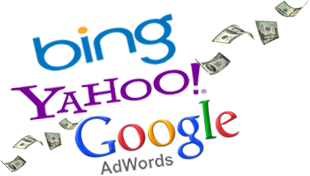 Are you going to PROMOTE Sports Cash System using PAID TRAFFIC Like
Yahoo, Bing, Google Adwords, or other paid ad networks?


READ BELOW!

Important Notice:
If you plan on promoting Sports Cash System through paid traffic like PPC (pay-per-click), we recommend using our PPC friendly landing page. This landing page has been setup so our video does not autoplay and there is no EXIT POPUP (live chat agent) trying to save the sale. Many ad networks do not allow this so we have setup a version that you can promote and still make great sales.
Simply copy and paste the code below to place any of the banners or images on your site. Important: Your Clickbank link is already embedded into the code on each banner/image below for you to get credit for each sale when a user visits from your website.
Ready to get started promoting?
Here's all your tools that are proven to convert:



If you have any questions or need any special images, banners, new email swipes, or promotional materials please e-mail our affiliate manager at
affiliates@sportscashsystem.com
, we JV with any serious marketers.